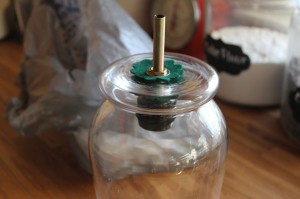 Lighting had always been an issue in my kitchen but since the renovation had a strict budget…I had to be very creative.  I needed some lighting over the new peninsula and the solution seemed to be to swag the lighting over from the only ceiling junction box in the kitchen.
All the pendant lights that I looked at, even the simpler designs were budget busters…so I resorted to making my own when I came upon some hurricane globes at Michael's.  The shape of the globes really spoke to me and I already had an idea to use some rustic, vintage, scalloped tart pans as an embellishment to hide the wiring.
Including the globe, lamp parts and wiring, each of these lamps came in at about $11 each.  I also spent $10 on a special drill bit that was used to drill the hole in the bottom of the globe.
If you want to try a project like this on your own, one thing to look for are glass vessels that don't have super thick bases.  Thicker bases can take 30 minutes or so to drill through and they can fry your glass drill bits. If you find a beautiful glass vase or vessel that has a thick base that you simply must use…take it to the closest glass shop. They will usually drill the hole for you at a cost of $15 – $25 per hole.   It can get a bit pricey…so just a fair warning from the voice of experience!
xoxo.
Cindy, Samantha and Lillie.
As a post script, I am submitting this article for consideration for a feature in Cottages & Bungalos.  Stop by the blog when you have some time, there are some terrific entries already:
[hana-code-insert name='cottagesbungalos' /]
[hana-code-insert name='Half Banner' /]