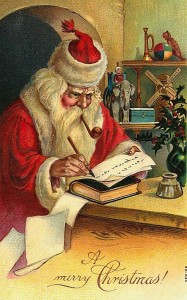 A recurring theme in my blog is always about making things easier.  Around the holidays, I try to work with what I have so I got the idea to hang mercury glass ornaments of varying sizes from my dining room chandelier with vintage seam binding.  Cut at different lengths, the vintage seam binding helps hold the ornaments at different heights and gives the "floating" centerpiece great visual interest.
The light itself is an oversized single burlap drum shade from Potter Barn.  It has this great fabric ledge on the inside that turned out to be a great place to tuck twinkling string lights that show through the burlap to give this great softened twinkling holiday light effect.  To make this happen, I found a screw in lightbulb socket with a plug and just screwed it into the extisting bulb socket, added the normal lightbulb and plugged in the twinkle lights.
The result is this great floating centerpiece with a soft, holiday lighting effect.  A simple project that has maximum impact to the entire room.
I hope you find some inspirtation for your house for the holidays!
Always,
xoxo
Cindy