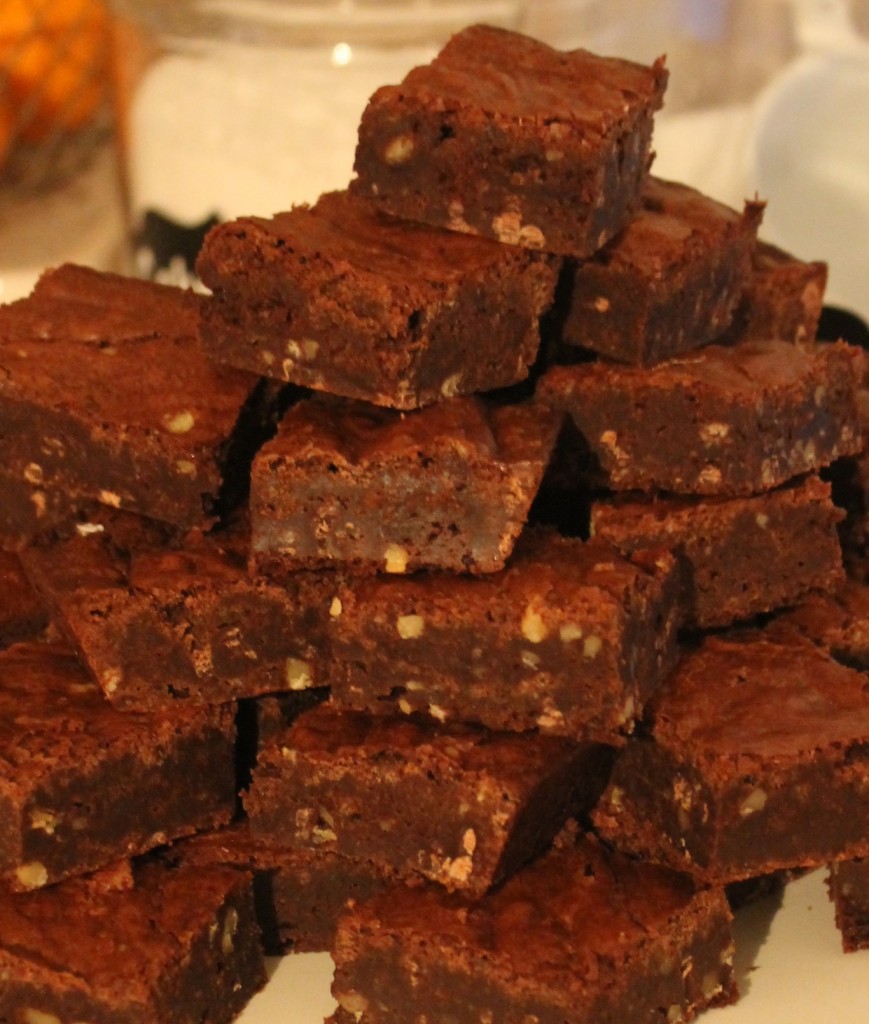 I am a fan of baking.  In fact, I may like baking more than I like eating the sweet treats I make!  It is just so much fun and homey and at the end of the day, if you do it right and make something delicious…you are bringing joy to others.
The weather was a balmy 70 degrees, VERY unlike our normal weather during Winter.  So I threw  open the windows and doors, let the old screen door snap shut and decided to make the most wonderful brownies in the world: Ina Garten's Outrageous Brownies.  Her trick is using coffee grinds in the batter; it brings a depth of flavor to the chocolate.  Sure…that is common knowledge now, but when she first introduced this recipe, it wasn't so common.
Fair warning, this recipe makes loads of brownies…so make sure you have a good and hungry crowd to serve them to, neighbors you can give them to or be prepared to scarf them up yourself.  No one can resist these bad boys when they are sitting in the kitchen…any effort to try is futile.
Recipe is after the pictures.
Outrageous Brownies
Ingredients
1 poundunsalted butter
1 pound plus 12 ounces semisweet chocolate chips
6 ouncesunsweetened chocolate
6 extra-large eggs
3 tablespoons instant coffee granules
2 tablespoons pure vanilla extract
2 1/4 cups sugar
1 1/4 cups all-purpose flour
1 tablespoon baking powder
1 teaspoon salt
3 cups chopped walnuts
Directions
Preheat oven to 350 degrees F.
Butter and flour a 12 x 18 x 1-inch baking sheet.
Melt together the butter,1 poundof chocolate chips, and the unsweetened chocolate in a medium bowl over simmering water. Allow to cool slightly. In a large bowl, stir (do not beat) together the eggs, coffee granules, vanilla, and sugar. Stir the warm chocolate mixture into the egg mixture and allow to cool to room temperature.
In a medium bowl, sift together 1 cup of flour, the baking powder, and salt. Add to the cooled chocolate mixture. Toss the walnuts and 12 ounces of chocolate chips in a medium bowl with 1/4 cup of flour, then add them to the chocolate batter. Pour into the baking sheet.
Bake for 20 minutes, then rap the baking sheet against the oven shelf to force the air to escape from between the pan and the brownie dough. Bake for about 15 minutes, until a toothpick comes out clean. Do not overbake! Allow to cool thoroughly, refrigerate, and cut into 20 large squares.
Copyright 2012 Television Food Network G.P.
All Rights Reserved
I hope you have found some inspiration!
Always,
Cindy